Did you forget to switch off the automatic updates on your smartphone? You don't need to worry about accidentally running up a huge bill: unless you agree differently with your operator, the cost of your data roaming is automatically capped. Moreover, roaming charges will cease to exist in the EU as of 15 June 2017.

Find out more in the text to follow along with some key expressions.

The price caps (= price limits) apply to everybody unless you opted for a special package offered by your operator (=your service provider/mobile company). Please also note that operators are free to offer cheaper rates: be on the lookout for better deals! To protect you against excessive (=too high) data roaming bills, the volume of downloaded data on your mobile device is capped.
DID YOU KNOW?
In October 2015 the European Parliament's plenary voted in favour to end roaming charges by June 2017. Consumers will pay the same price for calls, texts and mobile data wherever they are travelling in the EU. Calling a friend when you are at home or in another EU country won't make a difference on your bill.
Already from April 2016, roaming will become even cheaper: operators will only be able to charge a small additional amount to domestic prices up to €0.05 per minute of call made, €0.02 per SMS sent, and €0.05 per MB of data (excl. VAT).
The European Commission's first rules to address overcharging (=charging someone too high a price) in roaming prices came in 2007 – the "Eurotariff" capped maximum prices for phone calls made and received while abroad. These rules have since been periodically reviewed and reformed, with further reductions in price caps and automatic protections against data roaming bill shocks.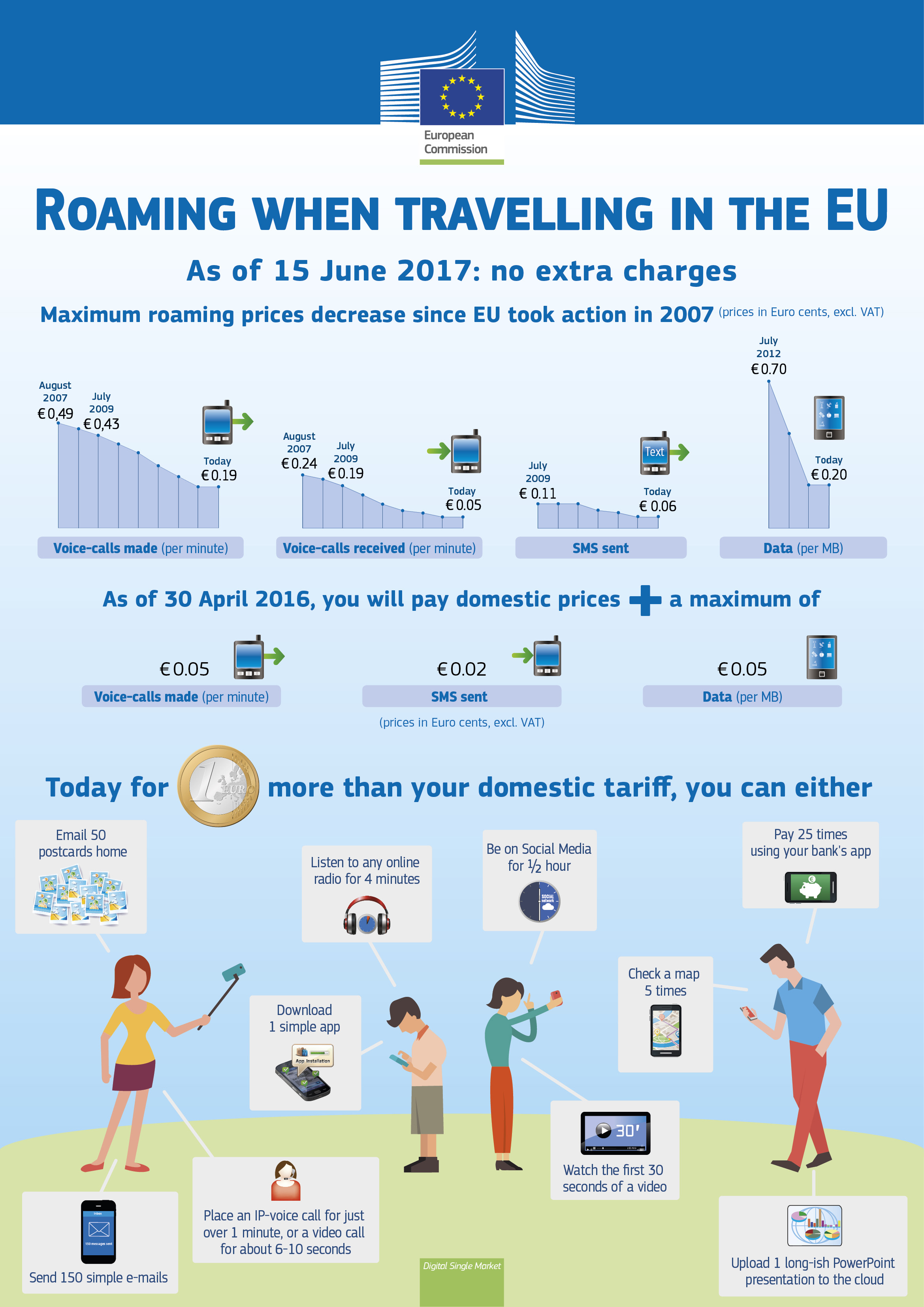 Source: http://ec.europa.eu/digital-agenda/roaming

Image courtesy of ddpavumba at FreeDigitalPhotos.net